Let's talk about beautiful flag of Ecuador. Today's design comes from times when country was part of Great Colombia. Was also inspired by Miranda's flag. Liberator and general Francisco de Miranda used simple tricolor flag of yellow, blue and red. This may sound familiar to you, right? The first version of Ecuadorian flag was first adopted in 1830. In 1900 changes were necessary, because it was too similar to flags of Colombia and Venezuela. As a result Ecuadorians decided to add national emblem to their flag. Since then only minor changes were done.

Flag of Ecuador

Since we know the history behind, we may look at design and symbolism of a horizontal tricolor. Ecuador's tricolor consists of yellow, blue and red. It's the same combination just like Miranda's flag, however proportions are different. All tree colors have a strong symbolism. While yellow and red refer to Spanish roots, the blue represents the ocean dividing Ecuador from Spain. Certainly that refers to a new ear of independence. There are more interpretations of tricolor, therefore I'm sharing the most common:

Yellow color: sunshine, richness of the landscape, crops, cereal or corn fields

Blue color: sky, ocean water and rivers

Red color: blood of fighters killed in the fight for Ecuador's independence

Ecuadorian national emblem

If you examine Ecuadorian emblem carefully, you will see an volcano surrounded by a beautiful blue sky. That volcano is Chimborazo.It's highest mountain of Ecuador. Under volcano flows a river Guayas. It's connection with volcano shows a coexistence between coast and Andes Mountains.

There are more interesting points. For instance, in the river Guayas sails a ship. It's not an average ship, but first steamship constructed in South America. On top, mystical caduceus snakes surrounds ship's mast. They represent trade and prosperity. Above the volcano are 4 signs of the zodiac: Aries, Taurus, Gemini and Cancer. These signs represent 4 months in a year historically significant for Ecuadorians. In addition the sun is in the middle of the zodiac.

Above the emblem stands an Andean condor ready to repel the enemy's attack, signifying strength and protecting the Ecuadorian nation under its wings. The laurel represents the victory of the republic and palm leaf the liberators who fought for the freedom of the nation. There are several other colors in the coat of arms, including green, white and brown.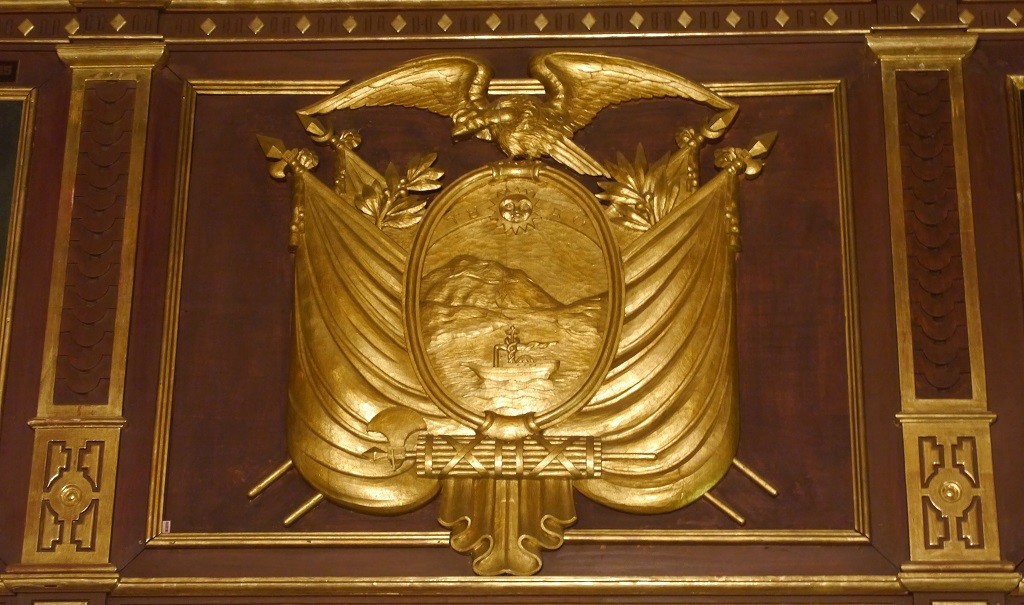 Read more

7 Reasons You Need to Visit Ecuador

9 Reasons Why You Should Visit Salinas in Ecuador